What is EMS? EMS is an electronic machines that generates electric current. The electrical currents are delivered through electrodes (usually pads that adhere to the skin) that are placed on the muscles. These currents mimic the action potential coming from the central nervous system, causing the muscles to contract. Theses devices are regulated by the FDA.
EMS can be used for training, therapeutic device, and as a cosmetic tool. Potentially, using these devices can increase muscle strength, diminish fatigue, and tone the body. I have an EMS unit, and I did not experience any of the cons that are mentioned above. However, I am very pleased with the unit, as I found that using it makes me want to exercise much more. After using it my body feels ready to run, jump, cycle, anything! I just feel like I need and want to move and do some exercise.
I decided to buy the Slendertone ReVive S5 Pro Muscle Conditioner & Stimulator. The reason? The price was right (usually sells for $69.99, but lately has been $49.99 on Amazon), and most reviews were positive. I also googled the item and found the company is considered to be reputable.
The machine itself is very small. I took a picture of it next to my iPhone 7  so you'd have a better idea of its size: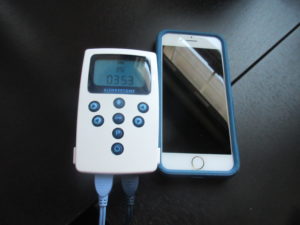 It has 4 electrodes, but you need 2 electrodes to connect to one pad, therefore you can use only two pads, not four. The pads are large and have a very good coverage. The unit has 6 muscle conditioner programs + 99 Intensity Levels:
Program 1: Exercise Preparation (12 minutes).
Program 2: Active Recovery 1 (30 minutes).
Program 3: Active Recovery 2 (20 minutes).
Program 4: Active Recovery 3 (20 minutes).
Program 5: Build Endurance (20 minutes).
Program 6: Muscle Strengthening (20 minutes).
I tried all the programs, and the one I love the most is program 6. The muscles are being contracted nice and strong (I'm now at levels 40-50), and as I mentioned, it makes me want to exercise. Often after a session with my EMS, I hit the treadmill for 30-60 minutes. I just HAVE to move!
It could be that I don't notice any toning effect because I'm so overweight. It would be interesting to know if you do see your muscles tone the more  you use this device, when you have much less fat tissues.
The unit comes with 4 pads. I've had this unit for about a month, and so far the first 2 pads (remember, each pad connects to two electrodes) are holding up very well. They still stick well to my body, and I don't even need to use an electrode gel. After I finish using them, I simply put the clear film on them, and that's it.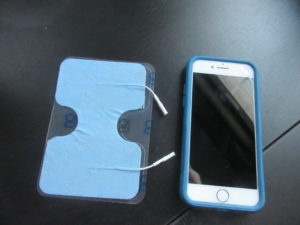 Make sure to read all instructions. They do suggest that you consult with a doctor before starting to use the device, and they also explain very well where on your body you should or shouldn't use it.
I am very happy with this EMS device, as this is the one thing that physically motivates me the most to exercise!